Santa Monica, CA bike tours
On California's sensational Southern Coast sits the city of Santa Monica, beachside paradise of the West Coast. Blessed with sunshine and the beautiful Santa Monica Bay, this city is a haven for vacationers craving the Pacific ocean breeze as it drifts over the sands of Venice Beach and whistles through the pier. A resort town, Santa Monica offers superb seaside hospitality, a host of holiday activities, and a thrilling proximity to legendary Los Angeles. Enjoy the Palisades Park, Santa Monica Pier, Ocean Park, and Hotel Casa del Mar, among other splendid sightseeing destinations here where the California sun scintillates the senses.
For your perfect guided bicycle tour of this beautiful bay, look no further than the Santa Monica and Venice Beach Bike Tour, with the added benefit of bike rental!
Santa Monica, CA Bike Tours · 1 to 1 of 1
Santa Monica, CA · from $71.66 USD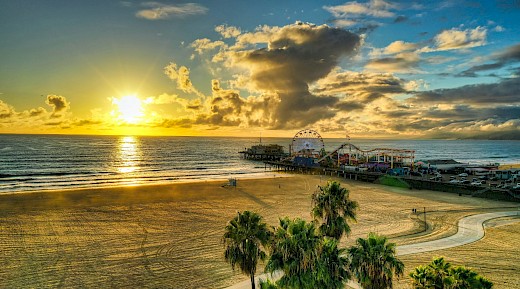 ---
| Days | Start | Finish |
| --- | --- | --- |
| Daily | 10:00 am | ~1:00 pm |
Description:
Under the scintillating California sun, you'll visit Kinney's historic Venice Canals and the sprawling Marina Del Rey, take photos of the unique Art Walls, and tour Muscle Beach. This breathtaking family friendly bike tour explores 8 miles of atmospheric…
---