New Orleans, LA bike tours
Southern hospitality combined with Creole culture is the embodiment of New Orleans' vibrant spirit. The city's nickname, the 'Big Easy', is characteristic of the city's larger-than-life character and laid-back pace.
---
Historically, Louisiana was a French colony, and New Orleans was settled by the French in 1733. In 1803, the Louisiana Purchase added the territory to the United States, and it became the 18th state to join the Union in 1812. Much of the history of NOLA's European settlers is preserved in the gastronomy of the city today, where beignets and bisque, inspired by French culinary tradition, make it the perfect destination for those seeking an epicurean adventure.
The city is also one of the most pedestrianized and cycle-friendly in all of America, and this, combined with its handsome Creole cottages and stately town houses, means cycling its streets takes on a distinctly European atmosphere.
The city is renowned for its vibrant music scene, particularly jazz and blues, which originated in the city's African-American communities. Take a bike tour through the French Quarter, New Orleans' most famous musical district, and ride to the sound of syncopated jazz rhythms floating onto the streets and the mellow notes of saxophones ringing out at every corner.
There is no better destination than NOLA for those seeking a party. The city's Mardi Gras celebration, held annually in February or March, is a riot of color and conviviality, and draws thousands of visitors to experience the state's carnivalesque character. Even if you're visiting outside of Mardi Gras season, taking a nighttime bike tour is a guaranteed good time. You'll enjoy a pedal-powered party through the city's best nightlife districts, complete with your own music, lights, and local guide.
Learn about the competing and complementary array of cultural influences that shaped the city's diverse landscape on a bike tour of New Orleans' vibrant neighborhoods. You'll pedal through the Francophile French Quarter and the all-American Garden District to gain a sense of how these vastly different cultures learnt to co-exist in the same city. You'll also gain insight into how the city's troubling colonial history has created a wealth of cultural and gastronomic heritage that draws on African and European influences.
Whether you're gunning for a taste of gumbo, journeying after live jazz, or in pursuit of an unforgettable party, taking a guided bike tour of New Orleans, with bike rental included, is the best way to experience this big-hearted, musically minded pocket of the American South.
New Orleans, LA Bike Tours · 1 to 3 of 3
---
Days
Start
Finish
Monday, Wednesday, Thursday, Friday, Saturday & Sunday
1:30 pm
~4:30 pm
Wednesday & Sunday
9:30 am
~12:30 pm

Please arrive for the tour 15 minutes before departure time.
Description:
From the lively, compact French Quarter to the surrounding Bayous, you'll follow the history of the Big Easy's transformation into a modern city on this bike tour. Start pedaling in the iconic French Quarter before you wend your way through Faubourg…
New Orleans, LA · from $50 USD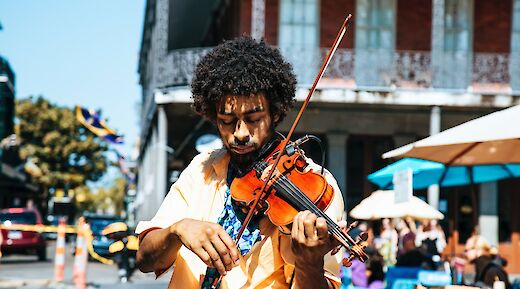 ★
★
★
★
★
5/5 (1)
3 hours, 6 miles
---
Days
Start
Finish
Monday, Tuesday, Wednesday, Thursday, Friday & Saturday
9:30 am
~12:30 pm

Please arrive for the tour 15 minutes before departure time.
Description:
Take a bike tour of the storied streets of New Orleans' five oldest Creole neighborhoods to learn about the city's colonial history and the resulting resilience, diversity, and cultural riches that endure. You'll begin in the spirited and scintillating…
---
Days
Start
Finish
Friday & Saturday
7:00 pm
~9:00 pm
Friday & Saturday
10:00 pm
~12:00 am
Friday & Saturday
7:00 pm
~9:00 pm
Friday & Saturday
10:00 pm
~12:00 am

Please arrive for the tour 15 minutes before departure time.

+ 1 more dates
Description:
Ride in revelry through the streets of New Orleans on this private nightlife bike tour! Your guide will queue up your favorite songs so you can sing along as you cycle through the Big Easy's best nightlife neighborhoods. Your guide will take you to the…
---