Sarajevo bike tours
Sensational Sarajevo, the breathtaking capital of Bosnia and Herzegovina, nestles gorgeously beneath the Dinaric Alps in the heart of the Balkans, lining the languid Miljacka River. A prominent center of European culture and designated UNESCO Creative City, Sarajevo is sometimes nicknamed 'Jerusalem of Europe' owing to its incredible legacy of religious and cultural diversity.
---
The site of the assassination of Archduke Franz Ferdinand, Sarajevo has been at the heart of history for centuries - it's a city with a thousand stories to tell in the ears of its eager visitors. Within its atmospheric precincts lie spectacular sightseeing attractions, including City Hall, the Sarajevo War Tunnel, the Walled City of Vratnik, Latin Bridge, and fabulous Old Town. A bicycle ride into Sarajevo's surrounding countryside yields jaw-dropping discoveries, from the Skakavac Waterfall, to the Olympic park atop Trebević Mountain.
A guided bike tour here is essential to understanding a striking landscape steeped in history and culture, and blessed with natural beauty!
Sarajevo Bike Tours · 1 to 3 of 3
★
★
★
★
★
5/5 (1)
6 hours, 15 miles
---
| Days | Start | Finish |
| --- | --- | --- |
| Daily | 9:00 am | ~3:00 pm |
Description:
Sarajevo, known as the "Jerusalem of Europe", is an underrated gem within Europe's hoard of beautiful cities. This guided bike tour is a historical exploration of its many astounding avenues and striking streets, taking in Vratnik, Old Town, the War…
Sarajevo · from €60 EUR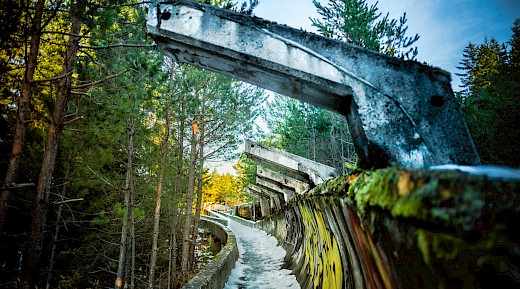 ★
★
★
★
★
5/5 (1)
8 hours, 15.5 miles
---
| Days | Start | Finish |
| --- | --- | --- |
| Daily | 9:00 am | ~5:00 pm |
Description:
Take a unique bike tour exploring one of Sarajevo's most potent symbols of perseverance - the infrastructure of the Olympics atop majestic Mount Trebevic. In 1984, Sarajevo hosted the Winter Olympics. On the snowy peaks of Mount Trebevic, athletes from…
---
| Days | Start | Finish |
| --- | --- | --- |
| Daily | 9:00 am | ~5:00 pm |
Description:
The iconic and mystical Skakavac Waterfall is renowned the world over for its raw, enchanting beauty, the star of Sarajevo's natural landscape. Take the guided mountain bike tour that brings you face to face with its majesty for a truly unforgettable…
---