Kefalonia bike tours
Kefalonia, the largest of the Ionian Islands, is an authentic Greek paradise. It has been called the home of Odysseus, rather than the smaller island of Ithaca, and played a fundamental role during the era of the Byzantine Empire as a crucial strategic base, blocking raids in the Adriatic and aiding the flow of goods and soldiers to Italy. Kefalonia became a full member of the Greek state, along with its fellow Ionian islands, in 1864.
The best way to explore this extraordinary island is by bike, on a breathtaking day tour of its most divine vistas and superb, sun-kissed scenery, and with bike rental an added option. Select your own Odyssey from the mystical Kefalonia Ainos Mountain Bike Tour, authentic Kefalonia Bike Tour through Erissos, Assos and Myrtos, or surprising Sami Geopark Kefalonia Bike Tour.
Kefalonia Bike Tours · 1 to 3 of 3
---
| Days | Start | Finish |
| --- | --- | --- |
| Daily | 8:00 am | ~11:30 am |
| Daily | 9:00 am | ~12:30 pm |
| Daily | 10:00 am | ~1:30 pm |
Description:
Explore the stunning Sami Geopark on a guided bicycle tour, one of Kefalonia's crowning glories, with the added benefit of bike rental! Beginning in the town square of Sami, your bike tour takes you traveling along a coast-to-coast road towards…
Kefalonia · from €55 EUR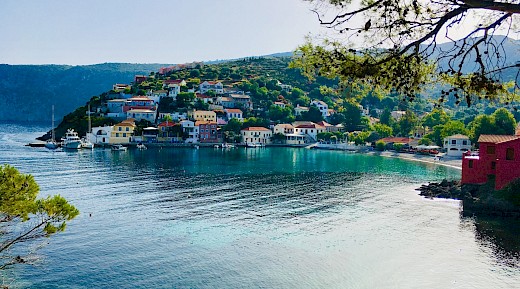 ---
| Days | Start | Finish |
| --- | --- | --- |
| Daily | 9:00 am | ~12:00 pm |
| Daily | 10:00 am | ~1:00 pm |
Description:
If you've come to Kefalonia for phenomenal viewpoints, authentic Greek charm, and beautiful beaches, this is the bicycle tour for you! The option for bike rental is an added bonus. Beginning on the sun-warmed shores of Agia Efimia, you'll cycle up to the…
---
| Days | Start | Finish |
| --- | --- | --- |
| Daily | 9:00 am | ~12:00 pm |
| Daily | 10:00 am | ~1:00 pm |
Description:
For an exhilarating bike tour of Mount Ainos with the added benefit of bike rental, look no further. Located 30km from Argostoli and the tallest mountain in Kefalonia, Mount Ainos is known locally as Monte Nero, or "Black Mountain". It earned its…
---