Estonia bike tours
This small Baltic country, popular for its charming rural villages and beautiful landscapes, is home to unspoiled marshlands, beaches and swamplands.
More than half of the country is covered with conserved forests, making it an ideal place for active travelers to explore the rugged wild. The untouched nature is home to some incredible wildlife, as well as several craters and stunning waterfalls.
In addition to its natural beauty, the culture and indigenous heritage of this Baltic country weaves together a fascinating tale of tradition, geopolitics, and eclectic culture. Cyclists can cover more ground in this small country and experience more of this fascinating land.
---
Learn more:
COUNTRY: Estonia, Latvia, Lithuania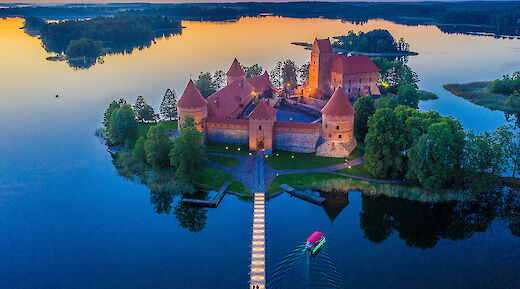 ---
★
★
★
★
★
★
4.2/5 (22)
10 nights
---
Guided from EUR € 1599
Self guided from EUR € 1355
Guided:
May 27; Jun 10, 17; Jul 1, 8, 22; Aug 5, 12, 26; Sep 2, 2024 (minimum 2 participants)
Self-guided:
May 27; Jun 10, 17; Jul 1, 8, 22; Aug 5, 12, 26; Sep 2, 2024 (minimum 2 participants; additional dates available May-Sep with minimum 6 participants)
Description:
Explore the breathtaking Baltic coast and the wonderful National Parks of Lithuania, Latvia and Estonia on picturesque guided or self-guided cycle routes. This terrific tour includes the three capital cities of the region – Vilnius, Riga, and Tallinn…
---