Thalassa

9 cabins / 1 deck
The Thalassa is a stunning three-mast motor sailing ship where comfort is combined with elegance. A standout in every harbor, the Thalassa's masts give the ship an air of great majesty.
Onboard, you'll be treated to spacious cabins with a noble wood finish, a saloon, and a vast desk with plenty of seating areas. Tables and chairs are available for relaxing in the shade, whilst sunning mats are available for the sundeck. Onboard meals feature a sumptuous selection of local specialties prepped in the ship's galley.
Facts
Year of construction: 2002
Complete renovation: 2020-2022
Length: 36 m
Width: 8 m
Number of cabins: 9
Number of beds: 18
WiFi: Available at no extra cost (limited reception on the open sea)
Languages on board: English, German
Boat overview
Cabin features
Teak cladding
Air conditioning
Hairdryer
Bathroom with mirror, shower, washbasin, and toilet
Cabin service and mid-week towel change
Double beds, 200 x 140 cm
Single and twin beds, 200 x 80 cm
Extras:
Stern access
Quiet generator
Sunning mats for the sundeck
Upholstered benches at the stern
Large tables and chairs for the deck
---
Bike tours sailing on Thalassa
COUNTRY: Greece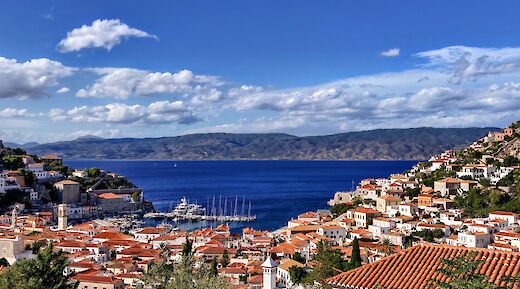 ---
---
Guided from EUR € 2390
Guided:
Oct 14, 21, 2023. Mar 29; Apr 05, 12; Jun 28; Jul 05, 12, 19, 26; Aug 02, 09, 16; Oct 04, 11, 18, 2024.
Description:
Embark on an extraordinary journey through Greece, where innumerable cultural treasures await. Travel the Peloponnese and Saronic Islands by e-bike and boat, exploring the immaculate coastlines, charming town centers, and the alluring Aegean Sea. Your…
---
---
Guided from EUR € 2390
Guided:
Apr 19, 26; May 03, 10, 17, 31; Jun 7, 14; Aug 30; Sep 6, 2024.
Description:
The Cyclades and Saronic Islands are a group of over 30 stunning Greek islands in the Aegean Sea, boasting ancient Greek architecture, picturesque towns, and breathtaking beaches. With a sumptuous blend of history and natural beauty, these islands offer…