MS Magnifique IV

18 cabins / 3 decks
The Magnifique IV, built in 2020, is the newest addition and a fan favorite for a luxury experience aboard adeluxe class barge.
On the upper deck has a spacious and tastefully-decorated salon with bar and lounge area. Here you will find large panoramic windows, a widescreen TV, and information screens displaying the barge's real-time location. The comfortable and inviting restaurant is separated from the kitchen by a glass wall so you can see the talented chefs in action. Large glass doors open onto a beautiful partially-covered teak sundeck, furnished with tables and chairs. The top deck includes a hot tub and deckchairs to relax and enjoy the scenery.
Year of construction: 2020
Flag: Dutch
Length: 67m / 220ft
Width: 7.2m / 24ft
Draught: 1.5m / 4.9ft
Passengers: 36
Crew: 5
Number of cabins: 18
Wi-Fi: WiFi on board (free WiFi in Holland and Belgium -limited WiFi due to steel construction; may not be quality and speed that you are accustomed to)
Languages on board: English, German, Dutch
Payment accepted: Cash and Credit Card
Currency on board: Euro
Boat overview
Salon with bar and lounge area
Large panoramic windows
Hot tub / Jacuzzi
Comfortable and inviting restaurant- with chef view windows
Partially covered sundeck furnished with tables and chairs
Wheelchair accessibility in two Suites on main deck (limited to main deck)*
Information screens showing the boat's location
No laundry services available onboard
Water on board is drinkable
Special Diet Requests: We cater to Gluten, lactose, and vegetarian diets. Vegan diets are not possible. Vegetarian diets have no surcharge, other diets cost € 50- to be paid on board.
Cabin features
All cabins equipped with private ensuite bathroom (with soap and shampoo), individually controlled air conditioning, climate control, and central heat, flat-screen satellite TV, WiFi, mini-safe, and hairdryer; 220V sockets
Top deck:

Hot tub, Sundeck with chairs

Main deck

Salon with bar and lounge area
10 suites (16 m²/ 172 ft²)
Suites include Double bed, cozy sitting area, french balcony with floor to ceiling glass doors. Twin beds can be arranged on request. *Suite 9 and 10 equipped with Handicap Accessibility and are wheelchair-friendly. Access to the lower deck and restaurant, however, is not possible.*

Lower deck

Restaurant and sun deck
8 twin bed cabins (12 m² / 129 ft²) with Two single beds and fixed portholes (do not open)
---
MS Magnifique IV's layout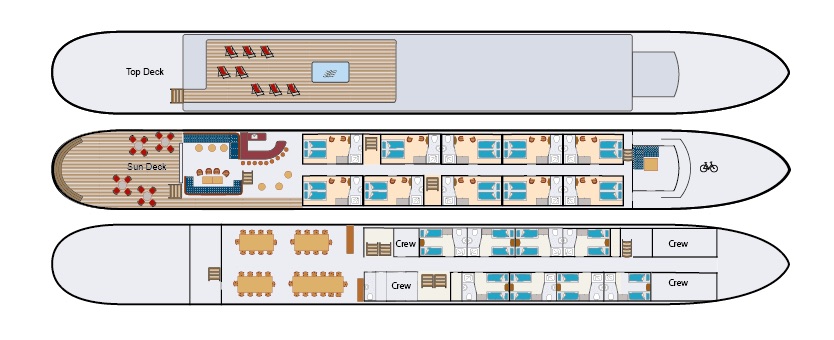 ---
Bike tours sailing on MS Magnifique IV
COUNTRY: Belgium, Holland
---
---
Guided from EUR € 1499
Guided:
Apr 27; May 18, 25; Jun 8, 15, 22, 29; Jul 6, 13, 20, 27; Aug 3, 10, 17, 24, 31; Sep 7, 14, 21, 28, Oct 5, 12, 2023. Apr 25; May 2, 9, 16, 23, 30; Jun 6, 13, 20, 27; Jul 4, 13, 18, 27; Aug 1, 8, 15, 22, 29; Sep 5, 12, 19, 26, Oct 3, 2024.
Description:
This brilliant bicycle tour takes you to some of the most beautiful cities in Holland and Flanders (Western Belgium), including: Amsterdam, Utrecht, Antwerp, Ghent, and Bruges, cities where you can still feel the charm of days long gone. After embarking…
---
---
Guided from EUR € 859
Guided:
Mar 31; Apr 3*, 4*, 5*, 7*, 8, 9, 11, 12, 15, 16, 19, 20, 23, 24, 28, 2023. Mar 30; Apr 1, 3, 5, 7, 9, 11, 13, 15, 17, 19, 21, 2024.
Description:
Experience Holland in the best possible way: a gorgeous spring short break dominated by flowers. This five-day mini-cruise plows through the most beautiful season of the year and will take you to gorgeous areas such as "the Garden of Amsterdam." Enjoy…