MS Magnifique III

21 cabins / 3 decks
The Magnifique III, a deluxe class barge launched in 2018 after much success of her sister ships, Princesse Royal and the Magnifique II.
On the upper deck is a tastefully furnished salon with restaurant, bar, and lounge with large panoramic windows. Large doors open to the partially covered sundeck where you may enjoy the fresh air. The top deck includes a whirlpool/jacuzzi and deck chairs to relax and unwind.
Facts
Year of construction: 2018
Flag: Dutch
Length: 67m / 220ft
Width: 7.2m / 23.6ft
Passengers: 40
Crew: 5
Number of cabins: 21
Wi-Fi: WiFi on board (very limited due to steel construction; may not be quality and speed that you are accustomed to)
Languages on board: English, German, Dutch
Payment accepted: Cash and Credit Card
Currency on board: Euro
Boat overview
Salon with restaurant, lounge and bar area with large panoramic windows
Sundeck with lounge/deck chairs
Whirlpool/Jacuzzi and deck chairs
2 screens (a camera and a navigation system) to see the real time position of the barge
Large doors open to the partially roofed sundeck
Cabin features
All cabins equipped with private ensuite bathroom (with soap and shampoo), individually controlled air conditioning, climate control, and central heat, flat-screen satellite TV, mini-safe, and hairdryer; 220V sockets
Top deck

Whirlpool/Jacuzzi sundeck with chairs

Upper deck

Salon with large windows combining a restaurant area, bar, and lounge
5 upper deck suites (approx. 16m²/ 172ft²) with a small sitting area and 'French Balcony'. This is a floor-to-ceiling sliding glass door that can partly open. The suites have 2 single beds as twins, next to each other.

Lower deck

14 regular twin cabins (approx. 12 m²/129 sq. ft.) 2 single beds as twins, next to each other)
2 single cabins (9 m² /97 sq. ft.) with one bed
Portholes cannot be open for safety reasons
*In most cabins, with advance notice, beds can be pushed together to form a double bed*
**If requested, an extra bed is available in some twin cabins (above one of the other beds).**
Limited free wifi* (in Holland and Belgium).
---
MS Magnifique III's layout

---
Bike tours sailing on MS Magnifique III
COUNTRY: Belgium, Holland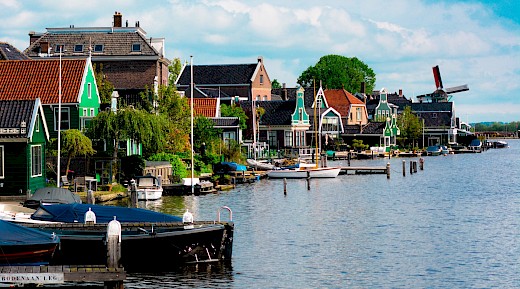 ---
---
Guided from EUR € 1499
Guided:
From Amsterdam: May 2, 16, 30; Jun 13, 27; Jul 11, 25; Aug 8, 2023. From Bruges: May 9, 23; Jun 6, 20; Jul 4, 18; Aug 1, 15, 2023.
Description:
During this bicycle tour, you will visit some of the most beautiful cities of Holland and Flanders (Western Belgium): Amsterdam, Utrecht, Antwerp, Ghent, and Bruges, where you still can feel the charm of the days long gone. After embarking from…
---
---
Guided from EUR € 859
Guided:
Mar 31; Apr 3*, 4*, 5*, 7*, 8, 9, 11, 12, 15, 16, 19, 20, 23, 24, 28, 2023
Description:
Experience Holland in the best possible way: a gorgeous spring short break dominated by flowers. This five-day mini-cruise plows through the most beautiful season of the year and will take you to gorgeous areas such as "the Garden of Amsterdam." Enjoy…