Erato

6 cabins / 1 deck
The Bordeaux-red beauty, the Erato, literally meaning "desired" or "lovely", will be your elegant accommodation as you explore the Cyclade and Saronic Islands. Enjoy your stay in the teak clad cabins which offers ample space, en-suite bathrooms, as well as ample storage for your luggage. The salon offers a well stocked bar and plenty of space to socialize and relax after a day of cycling. The chef on board prepares delicious Greek cuisine for guests to enjoy.
Facts
Year of construction: 2001
Cabin size: 10 - 12 m²
Size: 27.5 m x 7.1 m
Capacity: 6 cabins, 17 beds
Wifi
Boat Overview
Elegant motorsailer
Cabins clad in fine wood
Cozy salon which boasts a well-stocked bar
Comfortable outdoor seating
Friendly and attentive crew
Delicious Greek cuisine served on board
Daily cabin service with mid-week towel and bedding change
Cabin Features
Air-conditioning
Teak clad cabin
En-suite tiled bathroom with mirror, shower, washbasin and WC
Hairdryer
Beds: Double 200 x 140 cm; Single and twin: 200 x 80 cm
Extras
Two masts with sails
Elegant wooden interior
Shaded sundeck with cushioned benches, deck chairs, large tables and chairs
---
Bike tours sailing on Erato
COUNTRY: Greece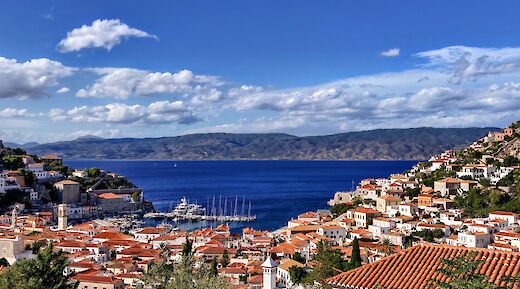 ---
---
Guided from EUR € 2390
Guided:
Oct 14, 21, 2023. Mar 29; Apr 05, 12; Jun 28; Jul 05, 12, 19, 26; Aug 02, 09, 16; Oct 04, 11, 18, 2024.
Description:
Embark on an extraordinary journey through Greece, where innumerable cultural treasures await. Travel the Peloponnese and Saronic Islands by e-bike and boat, exploring the immaculate coastlines, charming town centers, and the alluring Aegean Sea. Your…
---
---
Guided from EUR € 2390
Guided:
Apr 19, 26; May 03, 10, 17, 31; Jun 7, 14; Aug 30; Sep 6, 2024.
Description:
The Cyclades and Saronic Islands are a group of over 30 stunning Greek islands in the Aegean Sea, boasting ancient Greek architecture, picturesque towns, and breathtaking beaches. With a sumptuous blend of history and natural beauty, these islands offer…