Salzburg Lakes bike tours
A tour through the Salzkammergut (Salzburg Lakes Region) is perfect for cyclists looking to enjoy Austria's quiet countryside. With around 76 lakes, travelers will get their fill of jagged peaks that tower above azure lakes and alpine foothills. Scenery includes moorlands, pastures, imperial towns, and quaint villages.

The region is known as a cycling paradise thanks to the extensive network of well-marked, well-maintained routes (some are rail-trails). The terrain is quite varied—from flat lakeside trails to hilly meadows to outright mountains—for those who want the challenge. You can break up your cycling with boat rides, and even take your bike on the boats!
See also:
---
Learn more:
2 bike tours Clear all filters
---
Austria — Europe's storybook
---
★
★
★
★
★
★
4.4/5 (16)
7 nights
---
Self guided from EUR € 699
Self-guided:
Daily: Apr 29-Oct 21, 2023
Description:
Everybody knows them, the melodies of the "Serenade No. 13" and "The Blue Danube Waltz!" On this tour, you will start in Salzburg where Mozart was born, cycling straight through the beautiful hilly lake district of the Salzkammergut. Once you reach Linz…
COUNTRY: Austria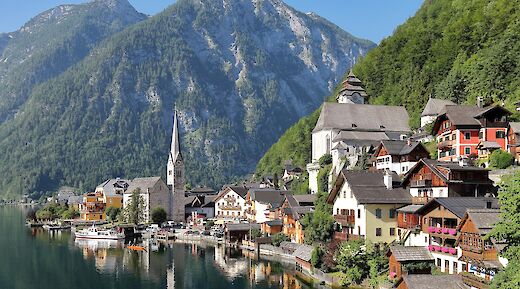 ---
★
★
★
★
★
★
4.6/5 (14)
7 nights
---
Self guided from EUR € 1049
Self-guided:
Daily: Apr 8 - Oct 7, 2023. Daily: Apr 13 - Oct 5, 2024.
Description:
What is lovelier than being out and about, cycling along the banks of lakes, and just letting your spirit soar in a marvelous natural landscape? The cycle tour through the Salzkammergut area is wonderfully suited for this. Only a few kilometers beyond…
---