Caprice

11 cabins / 2 decks
Welcome on board the Caprice!
On deck, you'll enjoy relaxing in the sun. The deck also has a canopy in case you prefer to relax in the shade. The public space is divided into a restaurant and a salon area with a bar and offers a comfortable seating space with picture windows all around. The vessel has wifi in the restaurant/bar areas.
Caprice is 128 feet long with 2 decks. The upper deck houses the public spaces and sundeck. The lower deck holds the cabins.
The vessel has 11 cabins and can accommodate 21 passengers.
8 cabins with twin beds
2 cabins with double bed
1 single cabin
The cabins are approximately 100 square feet; each offers en-suite, private bathroom, air conditioning, and portholes (do not open).
Please be aware that cabin storage space is limited. We recommend you remember to pack rainwear, bicycle helmet, sunhat, and sneakers.
We remind you that the boat is not like a hotel, so during the journey you will always hear some sort of underground noise.
---
Caprice's layout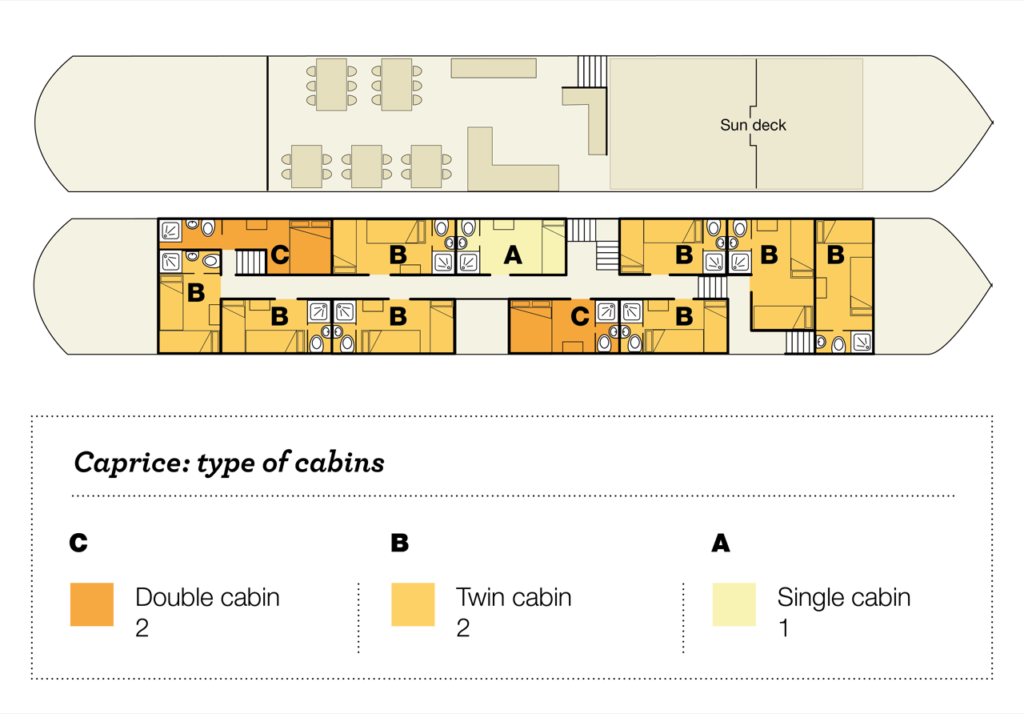 ---
Bike tours sailing on Caprice
---
★
★
★
★
★
★
4.8/5 (18)
7 nights
---
Self guided from EUR € 1020
Guided:
From Avignon: Mar 26; Apr 9, 23; May 7, 21; Jun 4, 18; Jul 2, 16, 30; Aug 13, 27; Sep 10, 24; Oct 8, 22, 2022 From Aigues-Mortes: Apr 2, 16, 30; May 14, 28; Jun 11, 25; Jul 9, 23; Aug 6, 20; Sep 3, 17; Oct 1, 15, 2022
Self-guided:
From Avignon: Mar 26; Apr 9, 23; May 7, 21; Jun 4, 18; Jul 2, 16, 30; Aug 13, 27; Sep 10, 24; Oct 8, 22, 2022 From Aigues-Mortes: Apr 2, 16, 30; May 14, 28; Jun 11, 25; Jul 9, 23; Aug 6, 20; Sep 3, 17; Oct 1, 15, 2022
Description:
A wonderful bike and boat tour through the wild Camargue nature with its bulls and horses: from the medieval fortress of Aigues Mortes you'll cycle gradually towards Arles. After that, you'll visit the most typical Provence landscape, including the Rhone…