Wine and cuisine tours
Some are in it for the cycling. And some of us are in it for the food and drink (meaning we cycle so we can eat and drink). But, it's easy to enjoy both worlds on our popular tours with a wine or cuisine focus.
These tours typically feature cycling each day, but also have a focus on the local flavors (and their producers!) of a region. For example, you might bike through the vineyards of Burgundy or Champagne, stopping to sample the wines on each estate. Or, you might cycle in Tuscany, and take cooking courses along the route.
Check out some of our favorite options below for wine-lovers, for foodies, and for both!
For wine lovers
Picture yourself cycling in a landscape of endless vineyards, riding at a leisurely pace between stops at local wine producers for tastings and cellar tours. Chat with winemakers about the stories behind their varietals. Order a case of your favorite to be shipped home, arriving later on your doorstep like a tasty postcard — the perfect reason to share memories and photos from your trip over a bottle shared among friends.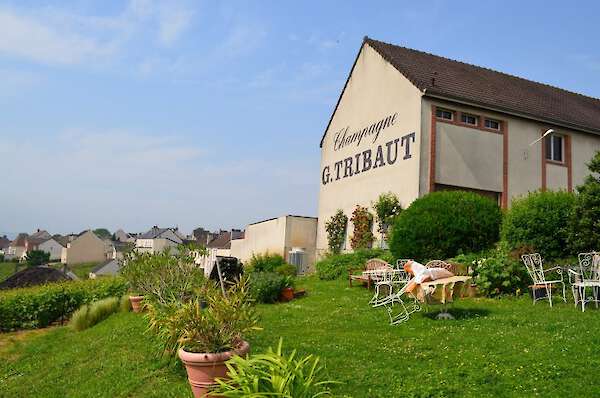 Champagne Getaway
Every two seconds, a bottle of champagne is opened somewhere in the world. You can visit the hometowns of this sophisticated beverage in one region of France, because, luckily, all champagnes are made within a few miles of each other outside Reims and Epernay, near the Abbey of Saint-Pierre where the legendary Benedictine monk, Dom Pérignon, supposedly invented the bubbly by accident in the early 18th Century. This tour takes you from the Marne Valley and through the Montagne de Reims Natural Park, with plenty of stops to taste some sparkling.
Tour details >
Castles and Wines of Portugal
This tour features the beautiful castles and succulent wines of Portugal. Available as guided or self-guided, you'll spend each night in castles, palaces, and farmhouses transformed into unique lodgings. The cycling features scenic rolling landscape with vineyards, olive groves, and cork oaks.
Tour details >
For foodies
Cycling and Cooking in Tuscany
This popular Tuscany tour combines fantastic bicycle routes and cooking lessons, all in Italy's famous region of Tuscany. After you have worked up an appetite biking through the rolling landscape of Tuscany, you will cook and eat the best food! Cyclists will explore loop rides in beautiful Val d'orcia, passing such highlights as Pienza, Montalcino, and San Quirico. The routes cross Val di Chiana, through Cortona to Crete Senesi, and on to Siena.
Tour details >
A Taste of Italy: Emilia Romagna
This trip is a beautiful cycle through Italy's famed pasta region. Tasty local dishes, pasta, cheese, truffles, and more will be the features of the meals, worked off each day with some leisurely cycling through the region.
Tour details >