Self-guided bicycle tours

Self-guided individual bike tours have become increasingly popular because of the flexibility and independence they offer. They cost less than guided bicycle tours but still maintain a level of support and convenience that allows you to explore on your own schedule without sweating the logistics.
Be sure to consider your comfort level around navigating a different culture and foreign language, reading maps and signs, ordering food, and dealing with flats or other minor emergencies – some travelers don't enjoy doing these things for themselves, but others find them the best part of an adventure.
Some of our top self-guided tours
Danube Bike Path (Upscale Lodging)
Loved by many, this is the most famous cycling trail in Europe. The route is smooth, stunningly beautiful, and very easy to follow.
Lake Constance Classic
The Lake Constance cycle route is the most popular cycle route in Europe. On this tour, you'll cycle around the entire lake and discover three countries (Austria, Germany, and Switzerland) and four islands (Reichenau, Mainau, Lindau, and Werd).
Connemara Lazy Days Cycling
This tour is specifically designed for independent travelers who wish to cycle less of a distance and spend lazy days along the way exploring this beautiful region of Ireland.
Medieval Villages of Catalonia
This cycling tour is a perfect way to explore the quieter and less-traveled areas of this fascinating region of Catalonia, Spain.
Support and independence
'Self-guided' does NOT mean that you're totally on your own. While you'll have more flexibility to ride at your own pace and take breaks at your leisure, the tour operator still organizes the logistics for you.
Hotel reservations and luggage transportation from hotel to hotel are included. The accommodations are usually the same as on guided tours as you often follow the same routes.
Most tour operators provide a comprehensive information package with the marked route, a detailed route description and tips on sights, cultural highlights, scenic stops, and recommended restaurants. (Note that these info packages are sometimes translated from the local language, and are not always the very best translation. While the materials are adequate, we encourage you to supplement them with advance destination research and guidebooks.)
Many tour operators offer a hotline in case of emergencies or problems.
Riding style
Since some self-guided tours have a minimum of just two travelers — or even one — you should not count on riding with a group. For some people, group camaraderie is part of what makes traveling fun. If you're one of those people, a guided bike tour may be the better choice.
What's included
Lodging
Breakfast buffet
Luggage transport from hotel to hotel
Tour description, travel material with route map (usually 1 set per room booked)
Detailed route planning
Emergency hotline
What's not included
Unlike guided bike tours, self-guided bike tours (except where noted) do not have an accompanying support van. This means that it's your responsibility to get to the next hotel every day, even if you head into bad weather or just don't feel like riding anymore. (If you do run into trouble, though, call the emergency hotline, and the tour company will help as much as possible, whether sending a van or advising you on public transportation options such as trains, boats, or buses.)
You'll also be expected to fix your own flats. (If you don't know how, ask your local bike mechanic to show you. Or view our step-by-step instructions). In the rare case of bicycle breakdowns, you may be asked to take public transportation or a taxi to the next town, where there may be a repair shop that can fix the problem (typically reimbursable by the tour company).
Some companies have spare bikes at 'depots' along the route. In other cases, the tour company will bring a replacement bike, but it may be at the end of the day or the next morning.
Typical day
See what a typical day looks like on a self-guided tour >
Quick comparison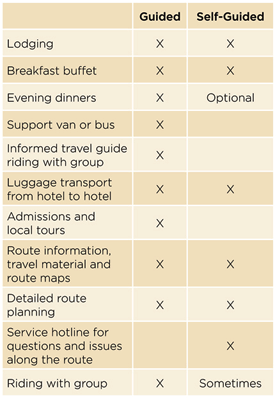 Hotels
Lodging is generally in 3- and 4-star hotels as well as 2-star hotels that are especially appealing—or the only ones in town. The hotels and inns are chosen whenever possible for their more intimate atmosphere and reflection of the history and culture of the area (rather than larger chain hotels). All rooms have private facilities with the exception of certain ships and barges, as noted.
Criteria for hotel categories is standardized in 17 European countries.
Meals
Breakfast is included on almost all tours (except as noted), and dinner plans are often available at a surcharge at the hotel or a nearby restaurant (please see individual tour pricing).
Rental bikes and equipment
Rental bikes are generally quite good, but many do not come with water cages or odometers. However, at the other extreme, some tour companies now offer handlebar-mounted GPS. Most companies do not rent helmets due to hygiene/safety reasons. Please bring your own!
Travel plans
Most tours start in the afternoon or evening with arrival at your first hotel. The actual cycling begins the next morning. Start cities usually have easy air or rail access.
Depending on when your overseas flight arrives, you may want to arrive in the departure city a day earlier. You'll be more relaxed, and you'll have the chance to explore the city on your own. Likewise, at the end of the tour, there's usually a final night's lodging included. You arrive by bike the day before, enjoy a relaxed evening, and depart the next morning after breakfast.
If you can't wait to begin biking, or don't want your adventure to end, consider taking a day tour in your start or end city. You can find all of our bike day tours here: https://www.biketours.com/day-tours/. Day tours offer a variety of compact sightseeing experiences, allowing you to extend and maximize your cycling itinerary. You can always extend your trip by adding extra nights in the start or end city to explore an area for longer than the included tour dates.
Is self-guided right for you?
Sometimes realizing what you DON'T want can help you figure out what you DO want. Check out these blog posts for indicators of which style of touring best suits you: