Guided bicycle tours

If you enjoy traveling with a group, meeting new people, and having a guide and structured daily schedule, then a guided group bike tour is probably the best fit for you.
These bicycle tours provide the convenience of having everything planned out for you: hotels, rental bikes, routes, meals, luggage transfers, sightseeing tours, and so on. The guides point out places of interest, organize excursions and activities, and are there in case of breakdowns (mechanical or human).
Support and personnel vary by tour and tour company, but one guide typically rides with the group, whilst a second guide drives a support van with your luggage. The van also makes it possible to bridge less attractive or more challenging sections of your route.
You usually bike in a group of 8 to 20 people, typically from several different countries, which makes for new acquaintances and international friendships. Most tour operators provide you with a comprehensive information package with tips on sights, cultural highlights, and scenic stops (although the extent of materials in English varies by tour operator).
What's included
The short answer is "almost everything". See individual tour pages for what's included on specific tours, but here's a general list of what you get on a guided bike tour:
Lodging
Breakfast buffet
Evening dinners
Rental bikes
Support van or bus (not on all guided tours)
Informed travel guide riding with the group
Luggage transport from hotel to hotel
Admissions and tours according to the program
Tour description, travel materials
Detailed route planning
Riding with group
Some of our top guided tours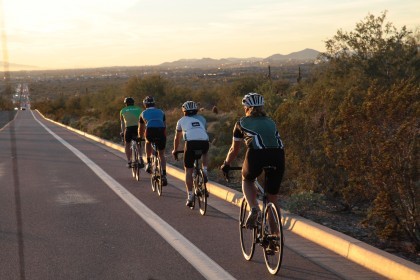 Cycling and Cooking in Tuscany
A guide shows you the best routes and eats in the romantic and beautiful Tuscany region.
Albania's UNESCO Sites with Rivers, Valleys, and Gorges
A guided cycling adventure in the beautiful country of Albania, this trip will have you feeling as though you've traveled back in time.
Prague to Vienna via Cesky Krumlov
Travel between two of the great capitals of Europe, Prague and Vienna, your guide showing you lesser-traveled gems in the Czech Republic along the way.
Castles and Wines of Portugal
The castles and wine tour will live up to its name. Most nights will be passed either in castles or old convents converted to beautiful charming hotels. And the wine… well, come and judge for yourself!
Quick comparison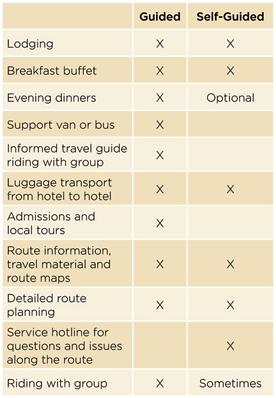 Riding style
On guided tours, riders tend to stick together as a group with the guide. Riders can sometimes go ahead to the next turn or next town, but the norm is sticking together. If you're a more independent cyclist who prefers to ride at your own pace, a self-guided bike tour may be a better option.
Typical day
See what a typical day looks like on a guided tour
Rental bikes
Rental bikes are generally quite good, but many do not come with water cages or odometers. However, at the other extreme, some tour companies now offer handlebar-mounted GPS. Please see the information related to each tour to learn about available bikes and equipment. Most companies do not rent helmets due to hygiene and safety/fit reasons. Please bring your own!
Hotels
Lodging is generally in 3- and 4-star hotels as well as 2-star hotels that are especially appealing—or the only ones in town. The hotels and inns are chosen for their more intimate atmosphere and reflection of the history and culture of the area (rather than larger chain hotels). All rooms have private facilities with the exception of certain ships and barges, as noted.
Criteria for hotel categories is standardized in 17 European countries.
Meals
Breakfast is included on almost all tours (exceptions are noted), and group dinners are either in the hotel or a nearby restaurant. For the most part, dinner is pre-ordered, although some choices are often available. On many guided bike tours, the group chips in for snacks and picnics for mid-day meals that are prepared by the guides. No one goes hungry on these tours! If you have dietary restrictions, please contact us before booking so we can confirm your options with the tour company.
Travel plans
Most tours start in the afternoon or evening with arrival at your first hotel. The actual cycling begins the next morning. Start cities usually have easy air or rail access.
Depending on when your overseas flight arrives, you may want to arrive in the departure city a day earlier. You'll be more relaxed, and you'll have the chance to explore the city on your own. Likewise, at the end of the tour, there's usually a final night's lodging included. You arrive by bike the day before, enjoy a relaxed evening, and depart the next morning after breakfast.
If you can't wait to begin biking, or don't want your adventure to end, consider taking a day tour in your start or end city. You can find all of our bike day tours here: https://www.biketours.com/day-tours/. Day tours offer a variety of compact sightseeing experiences, allowing you to extend and maximize your cycling itinerary. You can always extend your trip by adding extra nights in the start or end city to explore an area for longer than the included tour dates.
Is guided right for you?
Sometimes realizing what you DON'T want can help you figure out what you DO want. Check out these blog posts for indicators of which style of touring best suits you: