Road cycling tours
While the vast majority of our tours are in fact on roads, this page is devoted to the true 'roadies' out there. The ones who drool over a sleek carbon frame, the purr of skinny tires, and spinning a quick cadence mile after mile.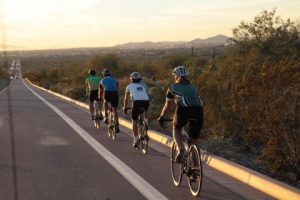 We have options for every level of road cyclist — from weekend warriors to mountain climbing, yellow-jersey chasers. We have road bike tours in some of Europe's renowned cycling destinations, including top race routes and training grounds of the pros.
Rental road bikes are always available, but let us know if you prefer to bring your own race machine or components. And, if you're traveling with a non-riding partner, many of these tours have activities for non-riders as well.
Suggested tours
Catalonia Road Biking: Girona to the Sea
Take this Spanish cycling tour and you'll see first-hand why so many European pros choose Girona as their training base. The routes include a fantastic mix of stunning coastal scenery, quiet and hilly inland roads, challenging climbs, and buzzing descents that take you through undoubtedly some of the most picturesque scenery on the Costa Brava. The rides have been carefully selected to take you along high-quality secondary roads that reduce your exposure to traffic – even during the busier times of the year.
French Alpes Tour: Alpes and Ventoux
This tour proves just how the pro riders both suffer and take inspiration from the amazing beauty of these spectacular mountains. Cyclists will go to the top of Alpe d'Huez, touch the monument to Henri Desgranges at the summit of the Galibier, climb Les Deux Alpes, Lautaret, and others. Then there's the mythical mountain of Ventoux, famous for its steep ascent, its heat, its bald and exposed peak, and simply its legend. For those who are really strong, there is the 'Club des Cingles', for which we will propose a service to achieve this status. Can you conquer the 'Giant of Provence'?
Tuscan Wine Classic: Pienza to Castellina via Siena
This self-guided cycling tour in the region of Tuscany features culture, art, food, wine, and, of course, some amazing cycling. You'll cross the hilly region with gorgeous views of olive groves, wheat fields, and vineyards.