Bike Tour Reviews Amsterdam – Bruges By Bike And Boat – Magnifique III (and Reverse)
COUNTRY: Belgium, Holland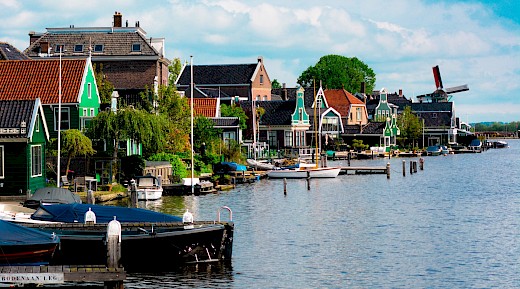 ---
---
Guided from EUR € 1499
Guided:
From Amsterdam: May 2, 16, 30; Jun 13, 27; Jul 11, 25; Aug 8, 2023.
Jun 11, 25; Jul 9, 23; Aug 6, 2024.
From Bruges: May 9, 23; Jun 6, 20; Jul 4, 18; Aug 1, 15, 2023.
May 21; Jun 4, 18; Jul 2, 16, 30; Aug 13, 2024.
Description:
This brilliant bicycle tour takes you to some of the most beautiful cities in Holland and Flanders (Western Belgium), including: Amsterdam, Utrecht, Antwerp, Ghent, and Bruges, cities where you can still feel the charm of days long gone. After embarking…
★

★

★

★

★

Dawn Richardson

11 months ago

Unique Vacation Experience

We had a great time on our first Boat Bike Tour and enjoyed the new traveling experience. I've never been on a cruise and was slightly intimidated by the prospect, but the small boat/barge and biking all day was a great way to see from a new perspective. I enjoyed the guided biking all day and the food on the boat was exceptional. The whole crew was great and it was fun being with folks from all over the world. Definitely considering another tour in the future! We had to postpone twice with the pandemic and were thankful to be able to go and feel safe a couple of years later. Thank you!

★

★

★

★

★

Donna Turner

12 months ago

Great Trip In Every Way

We had a great time biking from Amsterdam to Bruges. For those concerned about biking so much, this is a very flat ride; easy on a road bike in my estimation, though many had E Bikes. The Magnifique III was beautiful, comfortable, and offered a great team of guides and hospitality professionals who took great care of us. A few of the days of the tour were not as exciting of a ride as far as what you see, but most days were beautiful, varied and offered unique experiences such as a bike museum where we got to ride some crazy bikes, a canal tour in Ghent, a city tour in Antwerp, a visit to an incredible workshop of a local craftsman. It rained a few days but we were prepared and it didn't bother us. So much fun. Get out there and enjoy an active vacation on a bike; you will not be sorry!

What was the date of your tour?

September 2022

How many tours have you completed?

3

Difficulty (actual vs. expected)?

Somewhat easier

Who is this tour suitable for?

First-time bike tourists, Solo travelers

Do you recommend this tour?

Yes

5/5

Local tour company services

5/5

Guides (if applicable)

★

★

★

★

★

Eileen Provost

12 months ago

Fantastic trip!

The crew, barge and guides were all top notch and the food was really good. Beautiful bike routes took us through lovely local scenery! Enjoyed walking tours in Antwerp and Bruges. Guides were super flexible and offered different options on a day with bad weather. Highly recommend!
---